Front Door Design Ideas For a Memorable First Impression
The front door is often the first thing people notice when approaching a home. It sets the tone for the rest of the house and reflects the homeowner's style and personality. A well-designed front door can make a statement and create a memorable first impression.
We explore a few front-door design ideas to help you make that statement and have your house 'pop' in contrast to your neighbors.

Custom Carvings
Custom carvings on a front door can add an artistic touch and create a unique statement. Consider having a local artist or carpenter make a custom carving that reflects your interests or family crest.

Artistic and Decorative Glass
Glass is elegant and timeless and adds a touch of sophistication while allowing natural light to enter your home. Many artistic and decorative glass options exist, including stained glass, beveled glass, and etched glass.

Unique and Statement Hardware
Choosing unique hardware for your front door is easy and can be an affordable way to enhance the look of your front door. There are many options for door hardware, including antique brass, brushed nickel, and wrought iron. Consider choosing hardware with intricate designs or unusual shapes that match seamlessly with your home's architectural style, whether modern, traditional, rustic or other.

Modern Minimalism
Consider a sleek and straightforward front door if you prefer a more modern and minimalistic design. Choose a door with clean lines and simple hardware to create a minimalist statement. It's an excellent option for homes with a more contemporary architectural style.

Wood Grain
A front door with a wood grain finish and greenery surrounding it will showcase the timeless beauty of nature. Natural wooden doors are warm, welcoming, and perfect for a rich rustic look.

Bold Color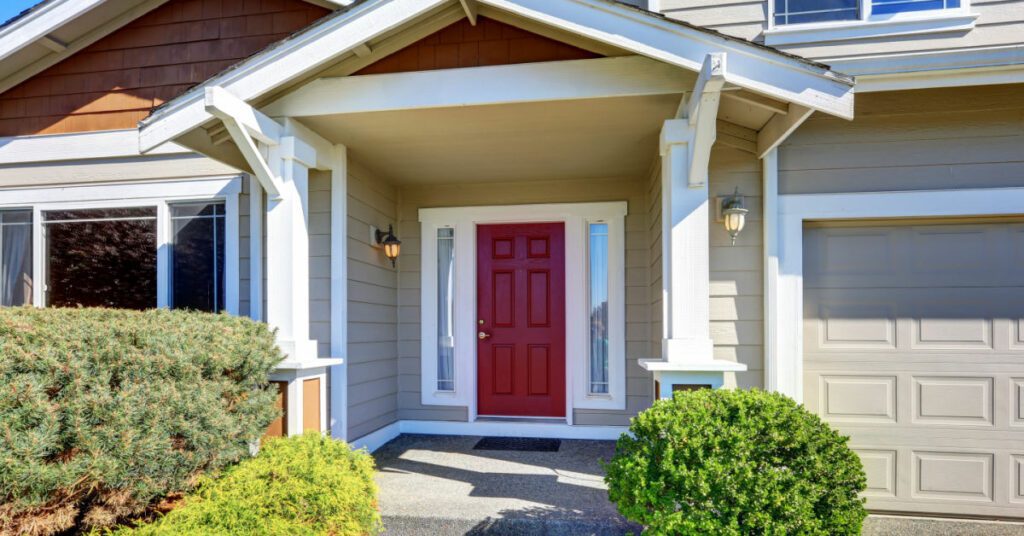 One of the easiest ways to make a statement with your front door is by choosing a bold color. A bright and bold color will undoubtedly showcase the personality of your home. Some popular bold front door colors include red, yellow, blue and black.
There is no rule your front door even has to be all one color; by selecting various hues, you can emphasize its detail. Remember to repeat the shades on the exterior siding and window treatments to pull it all together. This ensures the colors will contrast, complement the rest of your home's exterior, and reflect your style.
Colors also evoke emotion; for example, in Chines culture, red front doors are considered auspicious as they are believed to bring much good luck.
When choosing a color, it's vital to consider sun exposure as west and south-facing front doors can fade quicker than north and east-facing doors. Natural pigmented hues will not face as quickly as bold synthetic tones needing continuous touchups.
If you plan on selling your home anytime soon, consider simple colors, as they will attract a larger audience. Stay safe and opt for a more neutral color.

Let's Start With Your Front Door Design
If you want to change your front door design and consider re-painting or staining, contact Carolina Blue Painting so we can explore your options. We have an expert color consultation team to advise you on what is best for your entire home to blend harmoniously. Contact Carolina Blue Painting today.