Spruce Up Your Home With These Spring Colors
Your home both reflects and defines your lifestyle. It shows your taste and affects your mood, so you want to get it right. Whether you prefer to stimulate freshness, sophistication, or calm this spring, these seasonal color tips can help.
Favorite Spring Colors
Pastels
Classic pastel shades can create mellow warmth without being excessively overwhelming. Muted colors are easy on the eye and will transform your living space, so it matches the vibrancy of spring. Choose your favorite colors for walls and soft furnishings. Then, just pare them down until only a hint of color remains to give your decor a sophisticated edge.
Butter Yellow
We associate vibrant yellow with joy and a sunny disposition, and it can cheer up your home this spring, revitalizing the interior. Butter yellow is soft, pleasing, and suits country cottages and city apartments.
While toned down compared to spring daffodil yellow, it remains a comforting, joyful color that can boost a merry mood. You can introduce it as an accent color via cushions, throws, and other furnishings or paint entire rooms to add warmth and freshness.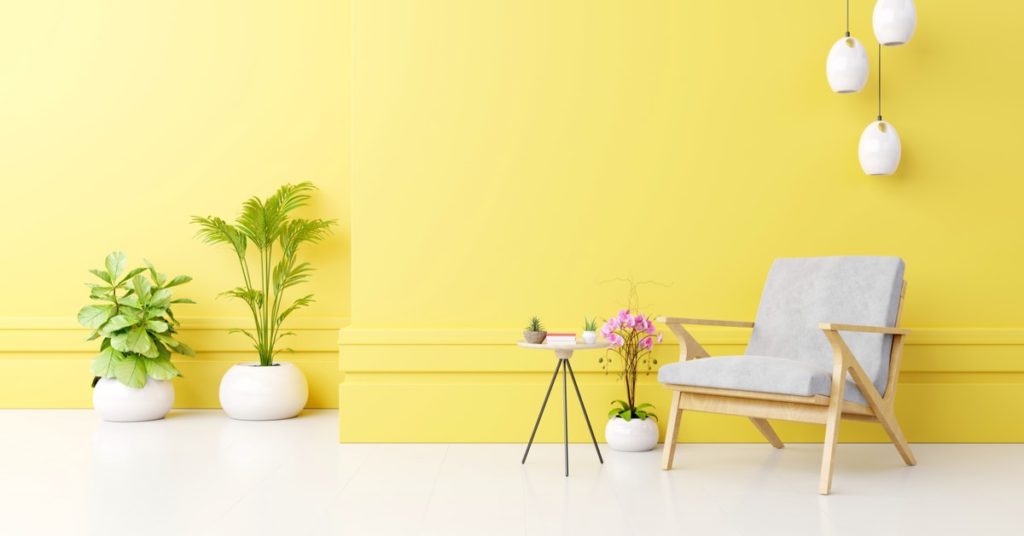 Bird Egg Blue
Crisp, cool, bird egg blue reflects nature and is the kind of active color people link with the emergence of springtime after a long winter. Blue provides an eloquent backdrop for paintings and chic prints. It looks sublime paired with white accent features like skirting boards and picture rails, too.
Orchid Pink
Vivid orchid pink brings unexpected calmness to rooms. We associate pink with love and compassion, and it boasts an atmosphere of caring, tranquility, and elegance. Add it as splashes of color via scatter cushions and woodwork, or be brave and paint entire rooms with it from floor to ceiling.
Grounding Green
Sage, moss, or emerald green is grounding and linked with the natural world. Outdoors, green emerges as plants send forth bright shoots to remind you spring and new life has arrived. Painting accent walls or including green in other ways in your home will bring a touch of springtime indoors.
Sophisticated Gray
Slate gray is charming and refined, and you can team it with many other spring colors. You'll love it if you want a calm color to offset rich colors or increase stillness. It creates a terrific stage for features like vases of spring tulips and cane herb baskets.
Darker gray can be an alternative to harsh black, adding a sense of composure and steadiness to rooms. It is also great when you want to create a monochrome effect.
Comforting Camel
Camel is inviting and warm. As an earthy spring color, it instills richness and comfort. Mix it with white, cream, or pastels and introduce it via rugs, tablecloths, furniture, and cushions. Save it for areas where people gather to talk over coffee or swap news since it's hospitable and hearty.
Spring is a fitting season to give your home a new color scheme. So mix and match, lather on color, or add pastels and make your abode chirp with seasonal hues.
Are You Ready To Spruce Up Your Home This Spring
Contact Carolina Blue Painting. Let us discuss the beautiful spring paint colors that will emphasize your personality, coincide with your lifestyle and set the mood.