Improve Curb Appeal in 8 Easy Ways
Curb appeal is a key element in selling homes and can make a house a more enjoyable space in which to live. Boosting a home's exterior appearance does not have to involve costly or time-consuming projects. This article lists a few fast and simple options for improving curb appeal.
"Curb appeal" is just another term for "first impressions." When you are selling a home, first impressions count, which is why you want to focus on making sure your house is impressive the first time the prospective buyer pulls up out front. Exterior improvements can enhance your enjoyment of the property as well.
One of the big obstacles that homeowners face when it comes to improving a home's exterior is the amount of time and effort it can take. If you are looking for some fast and simple DIY methods for enhancing your curb appeal, some of the best are below.
Add Outdoor Lighting
Outdoor lights can range from affordable landscape lighting options like solar-powered garden and path lights and string lights to more expensive floodlights and decorative lanterns. Outdoor lights are an easy way to provide a highly visible improvement to the look of your home. Lights along walkways and in your front garden can improve aesthetics as well as safety.
Paint the Front Door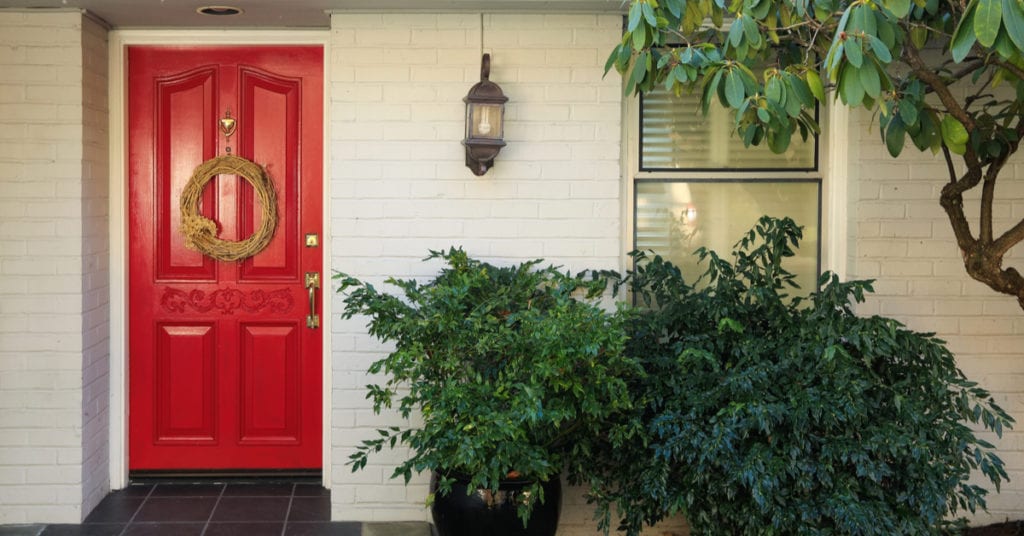 While it may seem like a relatively minor touch, painting the front door can accent the rest of a home's exterior look. Try an unusual color to set your home apart from others on your street.
Paint the Garage Door
If your garage door makes up a sizable part of your home's front, then it will be one of the first things that buyers see and will be a key part of their first impression. Like the front door, you can paint it a distinctive color to set your property apart.
Get a New Mailbox
Like the front door, the mailbox is a simple component of your home's appearance that can make a big difference when upgraded. Whether you install a standalone mailbox or a wall-mounted one, a new mailbox can instantly enhance your home's exterior.
House Numbers
Unlike other elements of the home's exterior, house numbers will be instantly noticed by visitors who want to confirm that they are at the right place. This includes prospective buyers. There are multiple labeling options available, allowing you to pick a numbering style in keeping with the home's design and your taste. Of course, legibility will be key no matter which style you choose. Make sure your numbers can be easily seen from the street.
Get Rid of Clutter
Try to keep the front of your home from looking too cluttered. While accents can be beneficial for improving the home's look, too many can give it a confused and chaotic look. If there is anything in your yard that does not serve a purpose, get rid of it.
Front Porch Seating
One of the factors that can make a home sell quickly is how welcoming it appears. The practice of staging homes for sale was built on this fact. You can create a welcoming air that can be seen from the street simply by placing a few chairs upfront. From the moment your prospective buyers pull up, they will be able to visualize themselves sitting on their new front porch.
Lay Down Some Mulch
Mulch makes your landscaping seem tidier. While you can mulch any part of your yard, flower beds are often best as they serve to accent the rest of the front yard. Mulched flower beds can give the whole property a more finished look. Mulch also has other benefits as it helps your garden to retain moisture while also discouraging weed growth.
The projects above are important to get out of the way before you list your home; however, they are beneficial even if you have no plans to sell soon. Improving curb appeal can help you to fall in love with your home again, just like it can draw in buyers.
Need Help With Painting?
Carolina Blue Painting is your go-to source to help you with all of your painting needs.
Are those dirty garage doors in need of power washing before painting? We can do that as well. Is your front door drab and needs an uplift? Let us help you pick the perfect color and get you on your way to a beautiful new front door. Any other painting needs? We are here to help you at your convenience. Contact us here to get in touch or simply give us a call.