Suppose you are looking for basic interior and exterior painting. Or perhaps something different. Are you stressed trying to search online for the best Budd Lake NJ painters? Well, you are in no way alone.
So whether it's a basic painting refresh you are looking for or something different like faux finishing, a painting technique that's rising in popularity, the Carolina Blue Budd Lake NJ painters can provide you with what you need and want and always with perfection, nothing less.
So, will it be faux finishing? This technique gives the impression of a different and more pricey material, such as stone or brick, but at a much cheaper cost. Therefore, choosing the best Budd lake NJ painters is vital. One that knows the dynamics of faux finishes and can perfectly implement them.
Maybe it's time to make your home or business look more contemporary, stylish, and attractive. We're here to show you who the number one Budd Lake, NJ, painting contractors are. That way, you can get on board with the company that's most suitable for you.
Read on to learn more about how our team at Carolina Blue must be your Budd Lake NJ painters of choice.
Carolina Blue: The Best Painting Services in Budd Lake, NJ
Have you ever heard of Carolina Blue? Well, if not, then you're missing out big!
Carolina Blue Painting is a top-class painting company in the New Jersey area. We paint:
Homes
Businesses
Both the inside and outside of buildings
Finding a company that offers consistent quality, affordable pricing, and the latest and most advanced tools to give you the perfect paint project is not always easy. But that's what we're about – we always go above and beyond!
Every Job Is Artwork
At Carolina Blue, our expert painters treat every task as a work of art that's never taken lightly. The most accurate attention is given, taking the time it needs to perfect the job when:
Painting
Staining
Applying textures
Faux finishing
Ultimately, our customers are left amazed at the finished job. Happy homeowners have described us as:
Doing the best job, they've ever laid eyes on
Worthy of more than a top-star rating
The most professional local painting company they've ever had
Our main goal when completing any task, no matter how big, is to leave our customers feeling thrilled. Providing satisfaction only makes us happy, too – we genuinely care about you and deliver the desired results!
First-Class Home Painting Services
Our residential painting services will cover your home's interior and exterior – no matter your needs.
Where requires painting? We work on any room in your home: living room, bedroom, bathroom, or every room. But we're here by your side if you need some paintwork done outside!
Interior Painting Services
Whether light, bright or full-color change, we'll give you the finish your room needs to complement the surroundings.
Small touches of color can make a whole lot of difference. The right ambiance can be added for chill and comfort and to improve your focus if you work from home too! Here are some additional benefits of choosing residential painting contractors:
Improves your property's value
Reduces dust and allergens
It makes it homier
Looks clean and beautiful
Remember those faux finishes? They're also an option. So, you can choose what you like, and we'll be right around at your call.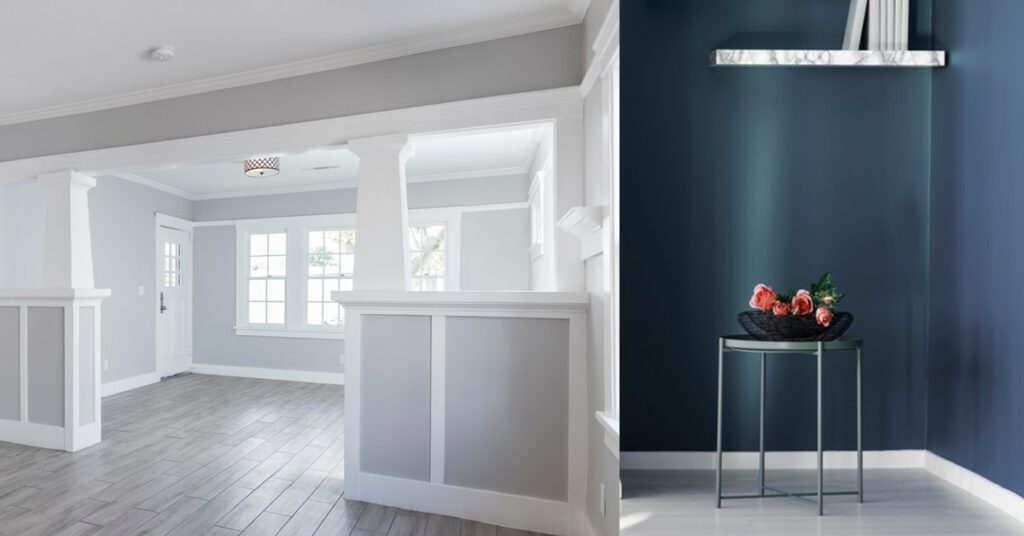 Exterior Painting Services
When it comes to your outdoors, here's what we can do for you:
Give structures a fresh coat
Replace loose or cracked paint
Provide glazing for that extra shine
With our help, you can expect excellent paintwork from start to finish, including all the fine details in between!
Other Residential Services
But if you need some outside work done too, we go beyond painting and offer the following too:
Power washing
Deck staining
Power washing will allow you to maintain a clean home exterior that always looks spik-and-span. Removing dirt, mold, and debris is critical for helping you prevent deterioration from happening to your home.
You can choose a one-off wash with our power washing services or a longer-term plan. Either way, we'll clear all the mess negatively affecting your home's appeal!
If your deck stain can't protect against the following, it's time to change your contractor:
Temperature shifts
Sunlight
Wear and tear
Deck staining with Carolina Blue is your safe bet towards leaving your deck attractive, long-lasting, and gleaning like new!
Best-Quality Commercial Painting Services
When it comes to your business, we know how vital a fresh look is for attracting your clientele. Otherwise, you could lose customers and drive down your sales.
To ensure your property is kept to the utmost beauty, we offer indoor and outdoor painting, hard floor refinishing, power washing, and deck stains. Here are some of the properties we offer services to:
Hotels
Retail stores
Restaurants and cafés
Office buildings
Apartments and condominiums
Medical facilities
Schools
For businesses, catching the public's eye is crucial to increase your customers. Does your hotel need more stays, or is your office looking to extend its clients? Then that's where commercial painting contractors will be of service to you!
Adding the Right Colors
Deciding on the perfect colors to complement the inside or outside of your Budd Lake, NJ premises can be a difficult task to do by yourself. By consulting with our experts, we'll help you find the colors that are the right fit for you!
To help you choose the best options, we'll discuss the:
Architectural style
Property's surroundings
Type of branding
General clientele
Currently trending colors
This will allow you to tailor your colors to suit your building style, type of customers, and trademark. Then, you can expect more customers to come knocking at your door!
Book In with the Top Budd Lake NJ Painters
Whether you need to add some color at home, boost the attraction of your business, or have the mold or dirt cleared outside, we've shown you how hiring a painting company can be a great move!
With our top-quality services, it's no surprise that we're recognized as the number one Budd Lake, NJ, painting contractor. So, you can be confident that when you choose us, you work with the best.
Are you ready to upgrade your home or business and leave it looking better than ever? Then, we're here for you. Request your free quote today. It's time to stop putting off your Budd Lake, NJ, paint project and get the help you need right this way with our professional team of Budd Lake NJ Painters!
Want to see a few interesting articles in the painting industry? Check out our blog. Below we list a few that may interest you.
8 Tips to Maximize Small Office Space
7 Common Painting Mistakes and How To Avoid
Decorating 101: Simple Rules for Choosing Colors and Finishes