If your all-white kitchen is looking tired, consider revitalizing it with yellow. Savvy designers are calling yellow the new white for kitchens. This article shows various ways to incorporate sunny yellow into your kitchen decor. Make your kitchen a "happy kitchen" and say "hello yellow kitchen"!
White Kitchen, Why Add a Touch of Yellow
White has monopolized kitchens for decades, but these days fashion-forward designers have coined yellow as the new white. Symbolically, yellow represents the welcoming warmth of sunlight and equates to happiness.
Yellow stimulates us on a mental level to heighten our imagination and creativity. Can you visualize yourself humming a happy tune and creating original recipes in your revitalized, yellow kitchen?
Just observe the first rule of designing your updated kitchen and refrain from using an excess of one color. Take white kitchens. Don't they look like a snowstorm erupted and dumped white-ness all over your kitchen? White walls, white ceilings, white cabinets, doors, appliances, and so on.
So, too much yellow can stomp on your last nerve and make you a cranky cook. Imagine that the biscuits don't rise, and the bacon is burned.
Yellow Kitchen Ideas To Consider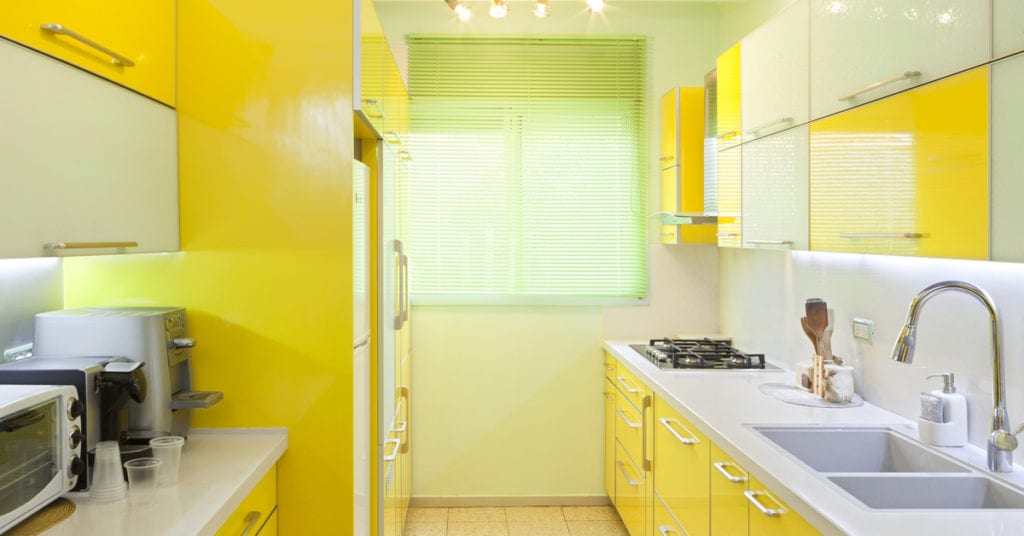 • Paint only your cabinets, hood over range, and windowsills a glossy yellow.
• Gray marries well with yellow, as does navy blue or lime green. These days, it's chic to paint lower and upper cabinets in different colors. For instance, deep yellow uppers with a matte finish and navy or lime green lowers.
• Paint walls with a dusty yellow and ceiling with a morning-sky blue.
• If you're still lovin' your white kitchen, consider adding pops of color with a glossy yellow kitchen range or matte yellow refrigerator. As open shelving is en vogue, consider removing one of your cabinet doors to display a collection of yellow dishes.
Make Your Mantra – Less (yellow) Is More In The Kitchen
No windows? No worries. Yellow décor shines in the small, dark kitchen. It is classed as an expanding color that fools the eye into thinking the room is bigger and brighter.
As the heart of the home, guests naturally congregate in your kitchen. Make your kitchen's heart sing – color it yellow.
Are you into yellow? Maybe you are not! No matter what color you want your kitchen to be, its okay, we are all different, therefore, we treat all colors differently. Let the color consultants at Carolina Blue Painting help you out. We would love to speak with you regarding your kitchen colors.
Get in touch with a Carolina Blue Painting representative now!