Matching Your Paint to Your Decor Style for a Cohesive Look
When undertaking a home painting project, selecting the right paint colors and finishes is essential to creating a cohesive decorating style. Whether your interior design taste leans traditional, modern, coastal or farmhouse, paint can bring it all together or create visual disconnects if not thoughtfully coordinated.
Here, we provide excellent tips on choosing paint colors and techniques to seamlessly match your home's decor personality.

Traditional Style
Traditional room decor often features elegant, timeless pieces like crown molding, crystal chandeliers, ornate rugs and rich wood furniture. Deep, saturated paint colors work well to create a sophisticated mood.
For main accent walls, consider hues like navy blue, forest green, burgundy or deep gray. Tone it down with ivory, light tan or similar neutrals on the remaining walls. Use sheens like eggshell or satin for a formal parlor look.
Add interest with metallic glazes or Venetian plaster finishes. Opt for bright white or soft cream for trim and molding to contrast beautifully with darker walls.

Modern Style
The modern design embraces sleek, contemporary pieces in gray, white and black hues. Keep walls light and bright for a fresh, airy look. Soft white, pale gray, light tan and very light blues or greens are great wall color options.
Matte and high-gloss sheens lend a smooth, streamlined effect. Use accent walls in bolder modern colors like cobalt blue, chartreuse or scarlet for dramatic pops of color. Paint built-in bookshelves, trim and doors in jet black or bright white for definition.
Metallic finishes like silver, gold and copper work for an ultra-modern touch.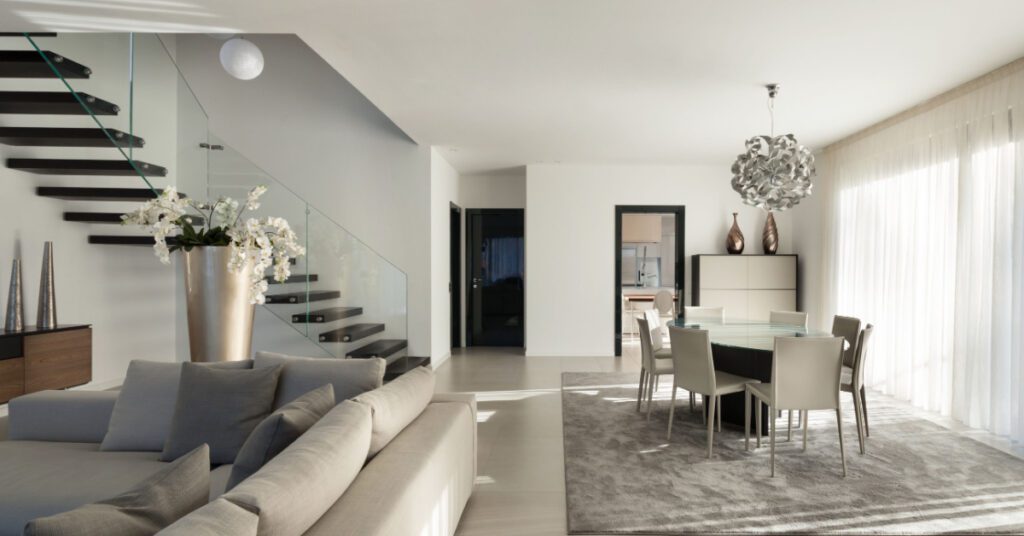 Coastal Style
To complement casual coastal furnishings and decor, turn to soft, inviting paint colors reminiscent of the beach. Light blue greens, pale aqua, whimsical seafoam green and warm sand or linen shades create breezy, laidback spaces.
Matte and eggshell sheens keep things relaxed and welcoming. Incorporate textures like sand finishes or delicate veining techniques to add depth and dimension.
Paint built-ins and shelving in driftwood tones for harmony. Use brighter blues and greens in accent areas to conjure images of coastal waters.

Farmhouse Style
Today's farmhouse style features vintage-inspired pieces, natural materials and finishes, and muted, earthy hues. Soft white and light gray walls provide a pleasing neutral backdrop. Accent walls in deeper shades of gray, navy, olive green, rust orange or barn red add cozy contrast.
Eggshell and flat sheens help walls feel authentic and aged. Bright pops of classic white create definition for trim, doors and built-ins.
Add character with wood grain finishes, subtle citrus stenciling or checkerboard patterns. Chalky chalkboard paint is perfect for kitchens. Keep colors natural and layered for farmhouse appeal.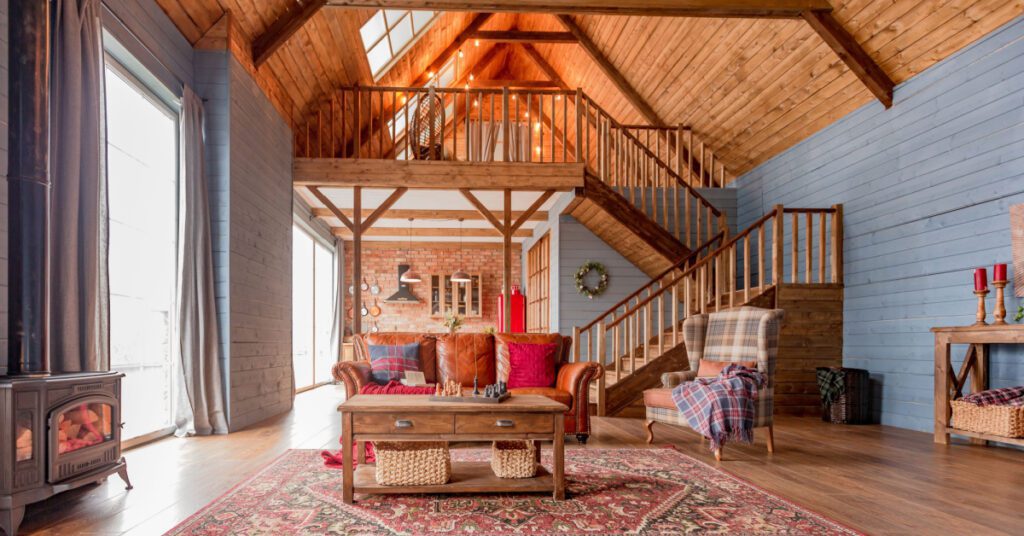 Rustic Charm
Stick to natural, earthy neutrals muted shades like beige, tan, light brown, slate gray, and pale sage green for primary wall colors. Soft whites and creams also work well. These colors complement wood grain textures and natural fabrics. Use flat, eggshell, or matte sheens rather than high-gloss. The muted effect fits better with distressed, vintage decor.
Use deeper shades like chocolate brown, charcoal, dark walnut, or espresso to paint accent walls, doors, trim, and built-in cabinetry. This grounds the space and pairs beautifully with wood furniture.
For a weathered finish appearance, consider layering paint washes, glazes, or stains over your base coats to add a timeworn, distressed character. Chatoyant and crackle glazing techniques can also add rustic appeal.
For rustic glam, incorporate soft gold, copper, or silver metallic paints on accent walls or cabinets. Hammered metal finishes also complement the style well.
To emulate old-world architecture and add depth, you can experiment with Venetian plaster, stucco, limewash or faux finishes on focal walls.

Tie Your Decor Style Together with Paint
Consulting with a professional painting contractor can help you translate your vision into the perfect palette for your decor style. Professional painting companies can assist with selecting colors, finishes and application techniques to create a custom look that flows flawlessly with the furnishings and ornaments you love.
Contact the expert painters at Carolina Blue Painting in New Jersey today for expert guidance on curating a paint scheme to complement your home's unique personality. The entire team is passionate about bringing each client's decor dreams to life through the transformative power of paint.